Discover Bank Review 2022
AT A GLANCE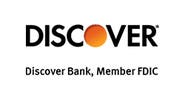 Discover Bank is an online institution within a financial services company offering various banking products, including credit cards, personal loans and student loans.
What we like
Discover doesn't charge fees on any of its deposits products.

Free checking account holders can earn cash back each month.

The CDs, savings and money market accounts all pay competitive rates.
What we don't
The $2,500 deposit for CDs and the money market account is steep.
OTHER SAVINGS OFFERS YOU MAY LIKE
The Discover Online Savings Account offers a competitive yield. There's no minimum deposit required to open an account and no minimum balance requirement. The account doesn't charge a monthly service fee either.

Account holders won't get access to an ATM card, but Discover Bank offers free official bank checks and expedited delivery for official bank checks.
The savings account pays a competitive yield.

There's no minimum opening deposit or balance requirements.

There's no monthly service fee.
An ATM card isn't available for Discover Bank's online savings account.

There are higher savings APYs available at other online banks.
OTHER CHECKING OFFERS YOU MAY LIKE
Member FDIC
Checking account
The Discover Cashback Debit account is a good option for those who don't want to jump through a lot of hoops to avoid fees. There's no minimum deposit required to open an account and no minimum balance requirement. The account also doesn't charge fees.

The account doesn't earn interest, but Discover Bank offsets that by offering 1 percent cash back on up to $3,000 in debit card purchases each month.

This is currently the only checking option offered by Discover Bank.

Discover Bank has a network of 60,000 ATMs in the U.S through the Allpoint and MoneyPass networks. Customers have surcharge-free access to these machines. Customers can also send and receive money with Zelle.
The checking account doesn't charge fees.

Customers can earn cash back on debit card purchases each month.

Discover offers surcharge-free access to thousands of ATMs.
The account is not interest-bearing.

It may take up to two business days to access mobile check deposits greater than $200.
OTHER CD OFFERS YOU MAY LIKE
Discover Bank offers 12 terms of traditional CDs with terms ranging from three months to 10 years, making it easy to build a CD ladder. Each of the CDs pays a competitive yield. The minimum deposit to open a CD is $2,500.

Customers must have a Discover savings account to open a CD with the bank. The bank is very upfront with information about its early withdrawal penalties, which vary depending on the CD term. For example, the penalty for CDs maturing in one to four years is six months of simple interest.
Discover's CDs all pay competitive yields.

The wide range of terms available makes it easy to ladder CDs.

The bank makes it easy to find info about early withdrawal penalties.
The $2,500 minimum deposit requirement may be high for some people.

Customers must have a savings account with Discover to open a CD.
Customers will need to deposit at least $2,500 to open Discover's money market account. It does pay a decent interest rate, above the national average. However, people looking for the best rates can find better rates elsewhere.

The account also doesn't have a monthly service fee.

A debit card is available in addition to free checks. Both your initial order and any check reorders are free. It's also possible to get a free official check and free expedited delivery of that official bank check.

Super savers benefit the most from the bank's money market account. A balance of $100,000 or more will earn you a slightly higher APY.
The money market account doesn't have a monthly fee.

It pays an above-average interest rate.

It comes with check-writing privileges and the ability to get free checks.
The $2,500 minimum deposit may be steep for some people.

Despite decent rates, you can find better interest rates by shopping around.
Bank experience
Discover Bank offers surcharge-free access to more than 60,000 ATMs nationwide and a mobile app earning positive scores in the App Store and Google Play. The app lets you deposit checks, pay your bills and find out account information without logging in, among other things.

While Discover operates only two branches, you can reach bank representatives 24/7 via phone.

Discover's credit cards have a lot to offer as well. None of their credit cards charge an annual fee, making their lucrative rewards programs even more impactful. The best Discover credit card is the Discover it® Cash Back, loved by cardholders for its rotating quarterly bonus categories. Read our full review of the Discover it® Cash Back.
About Discover Bank
Discover Bank offers CDs, checking and money market accounts and a high-yield savings account. It has also become one of the largest credit card issuers in the country.

The Discover card made its debut in the mid-1980s when Sears, Roebuck & Co. still offered financial services. Sears' bank, the Greenwood Trust Co., was later renamed Discover Bank in 2000. It is headquartered in Greenwood, Delaware.
Karen Bennett is a consumer banking reporter at Bankrate. She uses her finance writing background to help readers learn more about savings and checking accounts, CDs, and other financial matters. Karen brings decades of writing and reporting experience to the table, including the roles of credit cards writer for travel website Million Mile Secrets and money and career writer for The Cheat Sheet. Her work has also appeared in USA Today, Illinois Legal Times, and several Chicago, Milwaukee, and Washington, D.C. newspapers. In addition, she's worked in the areas of marketing and business development, and she was product manager for a consumer money-saving website. When she's not writing Bankrate articles, she can often be found cheering her kids on at soccer games, cooking and reading up on saving for retirement and other personal finance topics.